CBD
Flavour
Brand
Concentration
Percentage CBD
Effect
Amount
Is CBD suitable for external application?
Yes, we offer all kinds of ointments and creams that are especially designed for external application. Discover the wonderful products of Renova, Cibdol, Endoca, Jacob Hooy and Hemptouch.
CBD Skincare
Showing 1–12 of 17 results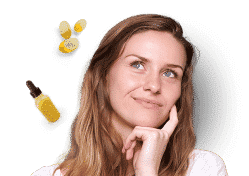 Do you want help choosing the best product for your situation?
Just answer these few questions.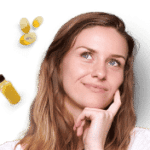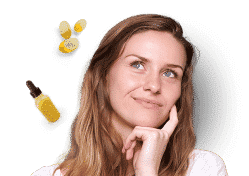 Do you want help choosing the best product for your situation?
Just answer these few questions.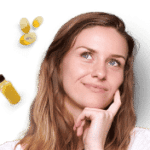 Shop for CBD skincare products at CBDsense. Our wide variety of products feature options for anyone regardless of skin type. If you want to learn more about CBD-infused topicals and the reason to add them to your skincare routine, below are answers to the most common questions we have been receiving from our customers to help you get started with CBD skincare.
Why are skincare products with CBD so popular?
CBD (cannabidiol) skincare products have recently stormed the skincare market and become increasingly popular, and the primary reason for that is the newly discovered endocannabinoid system (ECS) in humans. ECS receptors in the brain immune cells play a vital role in numerous body processes. More importantly, these receptors are also in sebaceous glands on the human skin, and they can control the skin's immune activity and inflammatory system.
Because CBD can interact with CB1 and CB2 receptors in the skin and provide numerous effects, such as potentially reducing sebum production, many consumers with skin concerns and common skin issues use CBD in their skincare routine.
Can CBD be absorbed through the skin?
Yes, CBD beauty products can be absorbed in the skin when you use specifically designed transdermal CBD products, also known as CBD topicals. However, although your skin can absorb CBD topical products, CBD from these products won't enter the bloodstream like CBD oil or CBD capsules and interact with CB1 and CB2 ECS receptors in the skin.
CBD topicals come in numerous forms: CBD cream, CBD body lotion, CBD salve, CBD facial products and moisturizers for varying skin texture, or even CBD lip balm. These CBD products combine numerous ingredients with soothing benefits for the skin and elements to boost the absorption into the skin, such as liposomes.
Can cannabidiol moisturize the skin?
Studies exploring the effects of CBD topicals on the skin suggest that infusing CBD with hemp oil can moisturize and hydrate the skin. CBD topicals designed for dry and sensitive skin combine numerous nourishing ingredients such as omega fatty acids with CBD, like Cibdol Soridol nurturing cream.
These skincare products moisturize the skin with the help of additional ingredients rather than CBD, so while CBD works by interacting with ECS receptors in skin cells, other hydrating ingredients can keep it moisturized.
Why choose skincare products with CBD?
Research shows that CBD-infused skincare products can affect and reduce sebum production, which in excess amounts can contribute to acne development –  a common skin condition affecting more than 9% of the world population. Besides, CBD beauty products are popular amongst consumers as they target specific skin areas outside of the body instead of CBD traveling through the bloodstream.
The fast absorption through the skin allows CBD to deliver quick results in a targeted body area. The famous cannabis compound CBD has been booming in popularity on the wellness market for several years. Many have included it into their skincare routines to experience the effects of the natural non-psychoactive compound in Cannabis Sativa with the help of other beneficial natural ingredients that moisturize and nourish the skin.
Always make sure that the products you buy are paraben-free and whenever you have a choice, SLS-free is also recommended.
What makes people want to try CBD for their skin?
CBD's popularity has skyrocketed, and its rising popularity and early studies indicating the potential benefits of CBD for the skin are among the primary reasons, so many consumers now want to try CBD beauty products. Besides, according to the EU CBD consumer report in 2019, pain management is the leading reason for European consumers trying CBD. Many CBD topical products combine natural pain-relieving ingredients such as menthol, eucalyptus, and lavender, amongst others, to target muscles and joints.
CBD cream is a CBD-infused skincare product designed for topical application. CBD creams combine CBD extract from hemp – a type of cannabis plant with no psychoactive properties, with other natural ingredients based on the purpose of use. For instance, CBD creams for muscle and joint relief usually combine CBD with eucalyptus, lavender, peppermint, hemp seed oil, or other alleviating ingredients.
CBD moisturizer creams such as Hemptouch nurturing face cream usually feature nourishing ingredients like hyaluronic to keep the skin hydrated in combination with geranium to keep the face glowing, and damask rose to soothe dry skin.
CBD creams are now everywhere, including cosmetics stores, supplements stores, and even supermarkets. Even so, CBD consumers prefer buying CBD products online – according to statistics, 66% of U.S. CBD sales are online.
Although CBD creams are no longer hard to find, finding a high-quality product remains challenging. That's because many CBD products sold online or at stores might contain unwanted ingredients, come from unreliable sources, and their labels may not provide accurate information about the content of the product.
Regardless of where you buy your CBD cream, always check third-party lab test results confirming CBD product label, the ingredients in the bottle and other cannabinoids, and the quality of CBD cream.
To use CBD cream, clean and pat dry the area where you want to apply the product, and gently massage the cream onto your skin. For first-time users who suspect to be allergic to any ingredients in the product, it's best to perform a patch test. To do so, apply a small amount of the cream to your wrist and wait 24 hours. If there are no signs of an allergic reaction, you can apply the cream to the larger area. Even though that's how people generally use CBD creams, It's always best to follow the instructions on the package of your CBD cream.
How much does this cream cost?
CBD creams cost anywhere from $25 to $100 or even several hundreds of dollars. The price for CBD cream products depends on numerous factors, including its size, potency (amount of CBD per bottle), quality of CBD, and other ingredients in the product.
Although it's difficult to estimate the exact price you should pay for your CBD cream, according to statistics, 44% of regular CBD users spend $20-$80 per month on CBD products. 13% spend more than $160 per month.
How long does it take for CBD to work?
For CBD to deliver its effects, your skin first needs to fully absorb the product, which can take anywhere from 5 to 30 minutes, depending on the ingredients in the cream and your skin's protective layer.
Usually, creams with more water than oil deliver faster results due to quick absorption, while ointments with high oil content may take longer.
How often can you use cannabidiol cream?
Generally, you can use CBD creams as often as needed throughout the day. CBD cream labels can also tell you how frequently you can use the product, and the recommended number of daily applications depends on the other ingredients in your cream rather than CBD. For instance, Hemptouch recommends using the balancing face cream with CBD twice per day, while you can use Jacob Hooy CBD cream several times and Cibdol Soridol 2-3 times per day.
How long does CBD stay in the body?
Early research in the late 20th century estimated that the half-life of CBD after oral consumption of a CBD-infused product was about 2-5 days. However, how long CBD stays in your body depends on numerous factors, including the frequency of use, dosage, body chemistry, metabolism, and administration method. Topical CBD products (for instance a serum) will not enter your bloodstream; instead, CBD in creams interact with CB1 and CB2 endocannabinoid receptors in skin cells.
What are the benefits of a CBD massage oil?
CBD massage oil is how you can transform the most relaxing massage into an even more enjoyable and aromatic experience while also soothing your skin with CBD oil and essential oils providing benefits of their own. For example, Renova Massage oil with CBD uses three essential oils – lavender, vanilla, and orange.
Research shows that lavender oil can be beneficial for the skin, have wound healing properties, affect mood and help with neurological disorders. Vanilla essential oil is packed with antioxidants that can help reverse skin damage caused by free radicals and neutralize them. It can also slow down signs of aging, reduce fine lines, refresh your skin, and give it a lovely smell of vanilla.
Research shows that orange essential oil can alleviate acne vulgaris, a prevalent dermatological disease usually affecting the chest, back, and shoulders.
Is CBD in skincare legal?
Yes, CBD skincare is legal in European Union, the United States, and many countries globally. In 2021, the European Union (EU) 's Directorate-General for Internal Market, Industry, Entrepreneurship, and SMEs added cannabidiol (CBD) as a legal cosmetic ingredient to its CosIng guidelines.
CBD derives from industrial hemp plants, a non-psychoactive type of cannabis Sativa plant. Unlike marijuana, it doesn't cause psychoactive properties even when consumers take high amounts of CBD orally. The hemp plant has been legal for purchase and consumption in the U.S. and most European countries for several years, and hemp extract rich in CBD content is a point of interest for many medical researchers.