CBD
Flavour
Brand
Concentration
Percentage CBD
Effect
Amount
E-liquids, or e-juice or smoke juice is the special liquid mixture that fuels an eletronic cigarette (or e-cigarette) and is converted into the vapor. It provides the nicotine solution and the flavoring to your E-cig. We offer a variaty of e-liquids that contain premium quality CBD. When inhaling the vapor from these CBD liquids, the CBD is taken in by your body really fast. That's why this is a really effective and popular way to enjoy CBD.
Is the use of CBD E-Liquids unhealthy?
All the Harmony CBD e-liquids ingredients are safe and do not contain any nicotine or other harmful substances.
Yes, all ingredients are 100% legal. There is no THC in our e-liquids so they won't cause a high.
CBD E-liquids
Showing 1–12 of 21 results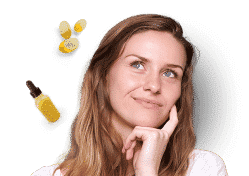 Do you want help choosing the best product for your situation?
Just answer these few questions.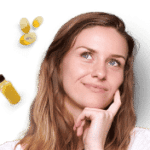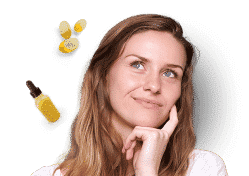 Do you want help choosing the best product for your situation?
Just answer these few questions.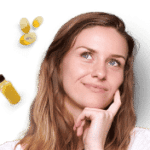 Vaping CBD is a famous way of CBD consumption. Still, CBD e-liquids can be harmful if they contain harmful ingredients like vitamin E acetate, known for causing popcorn lung and other EVALI (e-cigarette or vaping use-associated lung injury).
Coughing is a common indicator that the e-liquid contains ingredients unsuitable for your lungs. Check the quality of your e-liquid If coughing occurs while or after vaping CBD. Always shop for third-party lab-tested products, and buy CBD from trusted brands and retailers to ensure CBD e-liquids you buy are safe to consume.
During the 2019-2020 EVALI outbreak in the U.S., more than 2 thousand hospitalized cases of vape-related lung injuries occurred. These patients usually had respiratory symptoms such as tachypnea and dyspnea and commonly required supplemental oxygen. Some cases were so severe that they caused the death of patients.
Extensive studies of EVALI confirmed a link between the disease and tetrahydrocannabinol (THC) – the active psychoactive compound in marijuana. Up to 82% of EVALI patients reported using e-cigarettes containing THC, whereas only 14% of patients used nicotine-containing products. High-quality CBD vape oils regularly contain only trace amounts of THC, no nicotine, and high CBD content.
What flavors do you have?
At CBDsense, we offer CBD vape juice in the following flavor options:
What is a good strength to start with?
100mg CBD is an excellent beginner's dose, with each ml dose containing 10mg CBD. Now, you might be wondering about the strength of each puff. It is a general question with no single definite answer. How much CBD is in each puff depends on your vaping style, whether you're going to take a hit or a small puff. Generally, a 10ml CBD vape juice equals 1000 puffs. If so, then with 100mg CBD per bottle, you will get 0,1mg CBD per puff and 10mg CBD per 100 puff. Once you get used to its effects, you can advance to more potent CBD vape juice for vaping CBD, like 300mg or 600mg per bottle.

Harmony only uses properly regulated, tested, and approved well-tested and approved hemp of industrial quality.

Harmony has perfected its formula in order to create the best possible taste and vape experience!

In addition to their regular line, Harmony also offers a variety of other delicious flavours including Original Hemp, OG Kush, and Lemon Haze.
How do you vape CBD E-liquids?
You should vape CBD vape juices using refillable CBD vape pens. They consist of a tube-style battery, a vape tank, and an internal coil linking them.
To vape Vape juice using a vape pen:
What wattage to vape CBD vape juice?
The short answer is to keep it low, around 10-30 watts. Using too much power can cause the coil to get too hot, eventually burning and degrading CBD in the vape juice. Do not exceed 30W to prevent the coil from burning CBD. Ideally, it's best to start with the lowest power and adjust watts to your taste by increasing watts each session, not exceeding 30W.
Is there nicotine in your vape juices?
No, there is no nicotine in our CBD vape oils. All vape juices at CBDsense are nicotine-free.
How to make CBD vape oil yourself?
Making DIY CBD vape juice is easy and simple with the right ingredients and tools. You can create your own CBD juice using the purest form of CBD – CBD crystals. Both Harmony CBD Crystals and Endoca CBD Crystals are suitable for use in vaporizers and homemade e-liquids. You can use crystals to mix them with hemp, coconut, or other plant-based oil of your choice.
Crystals contain 500mg (Harmony CBD Crystals) or 1000mg (Endoca CBD crystals) of pure (isolated) CBD crystals (depending on the brand) without even trace amounts of THC. An external laboratory checks each batch of crystals to ensure the potency and purity of the product. It is important to dilute the crystals with at least 80PG liquid before adding VG to allow the crystals to dissolve. We recommend an 80/20 PG/VG ratio as CBD can recrystallize if too much VG is in the liquid.
Tools you'll need to make a DIY CBD Vape Juice:
Instructions for 10ml e-liquid PG/VG (80/20) 5% CBD:
Fill the pipette with 8 ml of PG. Using a measurement scale, add CBD crystals – 0,5g of pure CBD crystals (500mg) to the beaker and mix with PG. Pour the liquid into a bottle and shake well. Wait for about 6 hours until crystals fully dissolve. Add 2ml VG into the bottle using a pipette and shake well. Add flavorings. Fill the tank of your vape device with the vape juice, and enjoy the CBD vapour!
What is the strongest vape juice?
The strongest CBD vape juice at CBDsense is Harmony E-liquid 600mg. It provides 600mg CBD per bottle, 60mg per ml, and about 0,6 CBD per puff.
How long does it take for CBD vape juice to enter your body?
Vaping CBD offers quick, almost immediate effects, and it takes about 15 minutes to deliver CBD to the bloodstream and drive results. Studies examining the delivery of cannabidiol through different administration methods found that smoking or vaping CBD provides higher bioavailability and faster results than oral consumption. The research found peak plasma levels occurred within 3 min following inhalation of CBD.
Can you put CBD oil in a vaper?
You can't vape CBD oils. CBD oil tinctures designed for sublingual and oral administration are unsuitable for vaping. CBD oil can ruin your device, lose its potency, and leave you with a bad taste in the mouth. The best and safe way to vape CBD oil is using specially-formulated CBD e-liquids.
Do CBD vape oil products contain THC?
CBD vape oils may contain up to trace THC amounts if full spectrum or be THC-free when broad-spectrum or made from CBD isolate. Full-spectrum CBD oil is a popular choice amongst consumers due to the Entourage Effect – a famous theory suggesting that compounds in the cannabis plant work better in synergy than standalone. CBD vape liquid with broad-spectrum CBD contains all other cannabinoids in the hemp plant, except for THC. CBD isolate vape e-liquid contains no other cannabinoids or cannabis compounds rather than CBD. Harmony e-liquids contain trace and legal THC amounts necessary for the Entourage Effect.
How does vaping CBD affect the body?
CBD travels from the lungs to the bloodstream and interacts with the human endocannabinoid system (ECS) when you vape CBD oil. The system consists of human-produced cannabinoids – endocannabinoids and endocannabinoid receptors. CBD doesn't directly bind to cannabinoid receptors but affects the system indirectly. Research shows ECS plays a crucial role in the healthy functioning of the human body and processes like homeostasis.