We are pleased to announce that have recently added Renova's CBD products to our range. If you a truly unique and outstanding CBD-infused product is what you're after, look no further. Renova's products do not contain even the slightest trace of THC. This makes Renova the world's only reliable supplier of CBD oil and capsules with 0.0% THC.
Renova is known for using highly advanced and state-of-the-art nanotechnology during its manufacturing process – their nano-enhanced CBD products allow for a much higher bioavailability compared to other brands' offerings, which means that Renova's CBD products are simply much more effective than their counterparts!
Would you like to learn more about Renova's products and the benefits they offer? If so, carry on reading, as this article will explain everything you need to know to about Renova's CBD products.
Produced according to the latest scientific techniques
All Renova products are organically grown and harvested in Colorado – one of the most progressive states in the nation when it comes to cannabis policy – using sustainable and responsible farming techniques. Renova's close-knit team of innovative farmers, scientists, researchers, and product developers have joined forces to create a range of truly outstanding and state-of-the-art CBD products.
Renova uses innovative nanotechnology during the production process, which allows substances like CBD to be safely broken down into much smaller particles that offer higher bio availability. The average size of such a particle is approximately 25 nanometres. Many other manufacturers use a process that is characterized by the use of liposomes as carriers: on average, the average size of these particles can range anywhere between 100 and 5000 nanometres. It can therefore be said that Renova has figured out a way to truly stand out from their competition: their use of nanotechnology has allowed Renova to specially formulate their products for maximum bio availability, allowing nearly five times as much CBD and other active ingredients to enter your circulation.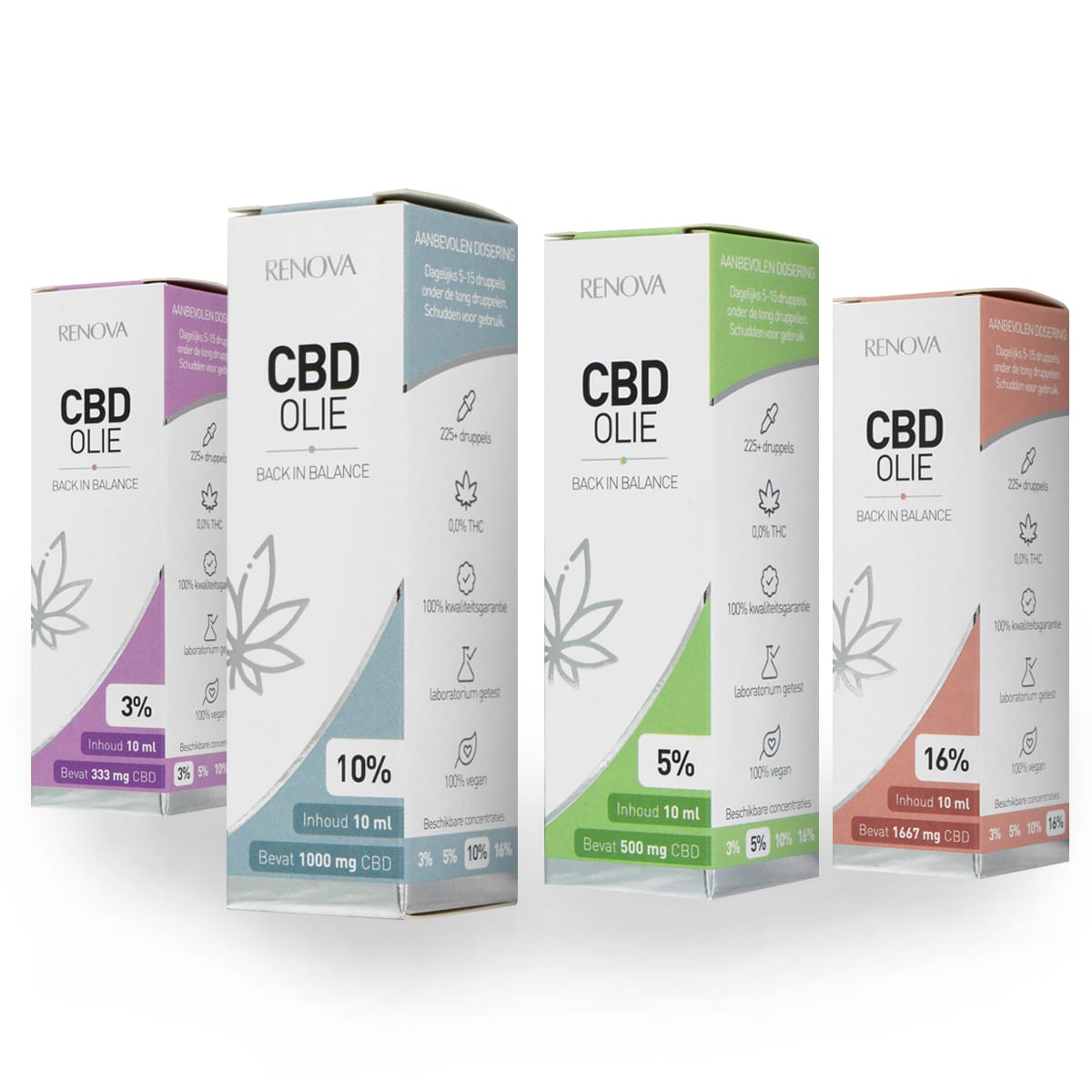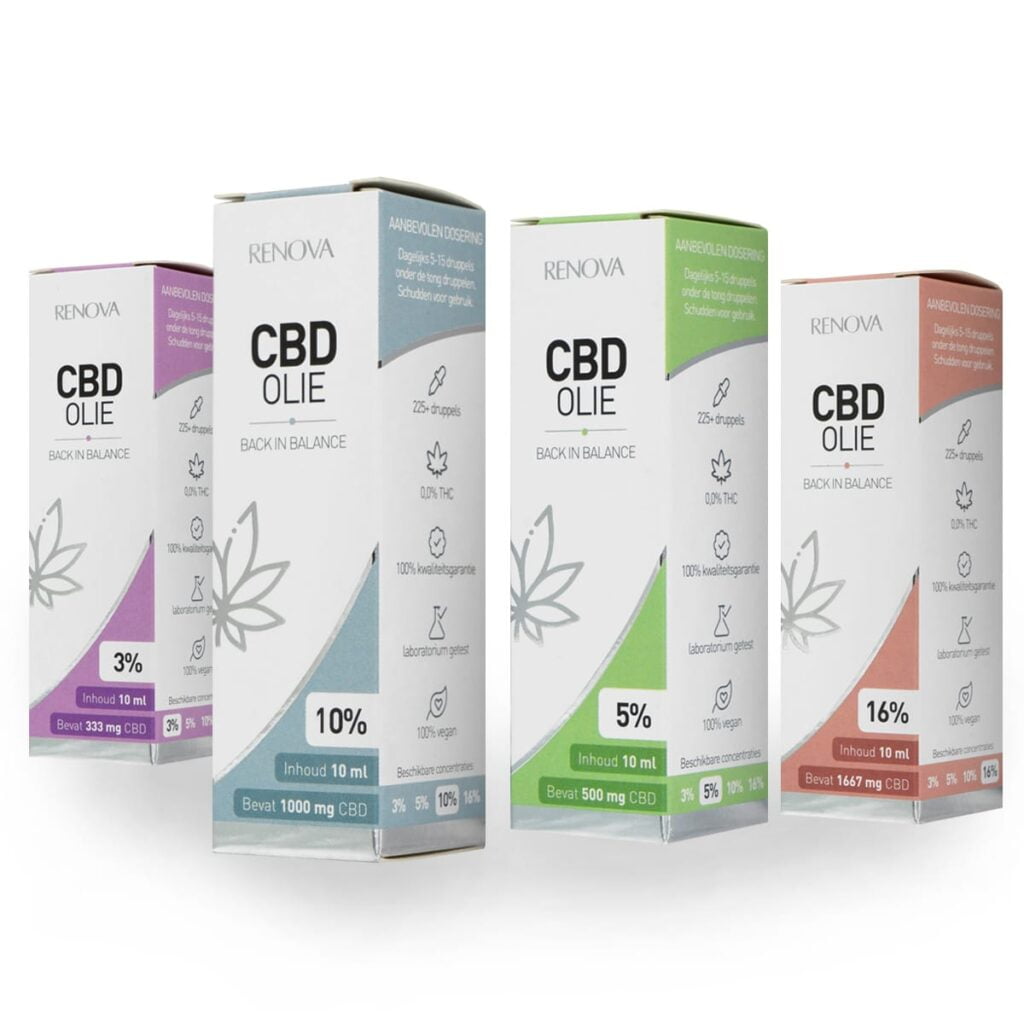 CBD without even a single trace of THC
As you may know, most high-quality CBD products contain a small amount of THC of around 0.2 or 0.3%. Renova's products, however, are completely free from THC.
Because Renova produces reliable and sustainable CBD products extracted from industrial hemp that are free from THC and its psychoactive side effects, you can use Renova products with complete peace of mind. There are many reasons to love Renova's new product line, and the fact that Renova CBD oil won't show up on a drug test is just one of them!
CBD sourced from organically grown hemp plants
Renova's products are lovingly crafted from sustainably and organically farmed hemp plants that are high in cannabidiol, or "CBD", and low in THC. Renova strongly believes in delivering pure and natural products, which is why none of the cultivars have been genetically modified through the use of modern biotechnology​. All products are completely free from THC and made from high-quality hemp grown without pesticides, herbicides, or heavy metals.
Renova uses a targeted process that removes the THC from the distillate leaving only full-spectrum CBD oil. Renova's full-spectrum extracts preserve the plant's full range of cannabinoids and terpenes, making them suitable for a wide range of applications (which include, but are not limited to, restoring the body's homeostasis).
Each stage of the production process is closely monitored and evaluated
High standards of safety and quality are crucial, and Renova wants its customers to rest assured that they are using a quality product that is both safe and potent. That's exactly why Renova is strongly committed to providing consumers with the information they need about the products they're using. All CBD products manufactured by Renova are laboratory-tested to ensure purity, safety, and consistency. Renova doesn't just employ internal testing, however: all products are also sent to a third-party lab for a second round of independent testing! All batch reports are available for our customers to view online at any time.
All Renova products are subject to the state of Colorado's strict health and safety regulations. Since the EU holds its member states to strict regulations on hemp, you can rest assured that each and every imported Renova product has been rigorously tested and proven safe for consumption. Renova prioritises the safety and reliability of their products above all else to ensure customers can use their products with complete peace of mind.