CBG Oil: a lesser known but promising cannabinoid
Unlike CBD, which has skyrocketed in popularity, CBG (Cannabigerol) is still relatively obscure, even though it has many beneficial properties much like CBD and THC. We think it's about time everyone got to know this beautiful cannabinoid better!
What is CBG and what does it do?
CBG is, at the time of writing, a relatively unknown cannabinoid that was discovered approximately 50 years ago. It is produced by all cannabis plants and serves as the precursor to the other active cannabinoids (i.e. CBD and THC). The plant's natural enzymes break CBG down and convert it into either CBD or THC, and by the time cannabis plants mature, most of the CBG has been broken down into these compounds. When too few active compounds are present in a particular strain, the cannabis plant cannot convert all CBG into CBD or THC, resulting in much higher concentrations of CBG. This doesn't necessarily have to be a problem, as research has shown that CBG can stand on its own and has a variety of beneficial health effects. Much like CBD, CBG is non-psychoactive,
which means that it can't get you high.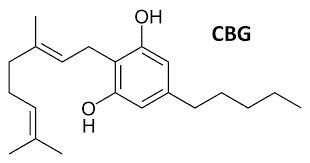 CBG and the endocannabinoid system
CBG, like CBD, harbours active agents affecting the endocannabinoid system. Research has shown that the endocannabinoid system is an essential regulator of many physiological functions, including:
It goes without saying that these are all vital functions. Both cannabinoids and a properly regulated endocannabinoid system are essential for one's body and health. CBG, like CBD, can help restore balance and promote overall well-being. However, both cannabinoids have their own unique characteristics and interact with the endocannabinoid system differently.
When CBG, CBD, and THC are used together, they may produce a stronger effect than any one of those components alone, thus becoming greater than the sum of their parts. This synergy is referred to as the entourage effect. When two or more types of cannabinoids are used alternately and/or combined, its users may fully benefit from the ultimate entourage effect.
Medihemp has recently added bottled 5% CBG oil to its already wide and varied assortment.